eBay Turbo Lister (TL) is starting to retire in most of the EU eBay sites in February, many EU sellers using this tool are finding alternatives. You think it just happened in EU? Or… feel safe because eBay is STILL supporting for US sellers/ site? Here are 3 hints you should know from TL retirement.
1. It's time to find trusted alternatives to safeguard your business
Sellers using Turbo Listing might contribute largely to its bulk edit & amend function to expand his/ her online exposure with minimum effort. It's obvious that "Bulk Function" is the key to boost sales. Can you imagine how trouble it would be without a bulk tool, when you have long been using it? In fact, moderator of eBay boards also advises sellers not to download the TL tool anymore, having a smart & long-lasting alternative is crucial to safeguard sellers' business.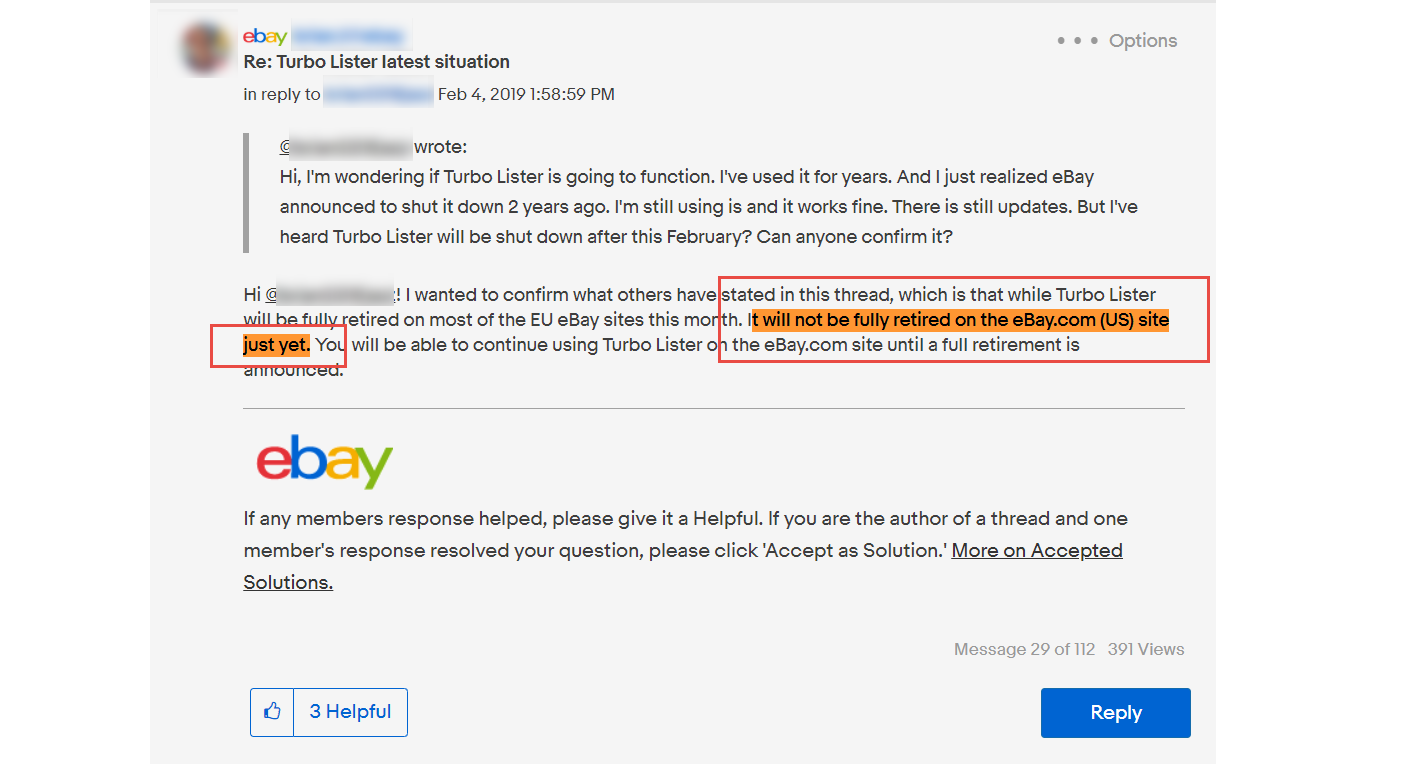 2. SoldEazy as Suggested Service Provider of eBay can help
SoldEazy is the SSP & strategic partner of eBay specialize in bulk listings for all sites of eBay. No matter you are casual sellers or big sellers with hundreds or thousands of listings, SoldEazy can help you out with an affordable try. You can start from just US1/ mo. & it's not saying the Free Trial! (More refer to SoldEazy Pricing Plan)
Features of Turbo Lister vs SoldEazy
| Feature | Turbo Lister | SoldEazy |
| --- | --- | --- |
| Bulk Edit Listings | ✔ | ✔ |
| Listing Schedule | ✔ | ✔ |
| List to all eBay Sites | ✖ | ✔ |
| Zero-coding listing templates | ✖ | ✔ |
| Marketplace promotion tools | ✖ | ✔ |
| Other many more automation… | ✖ | ✔ |
3. You should use tool BEYOND platform
If you are reading this article, you shall have awareness of/ impacted by Turbo Lister current change! Or if you are doing marketplace business on you own, this change might kill many of your time. Have you aware of tool that help you sell in different platforms simultaneously with the SAME effort? With more platforms/ sales channels, you can minimize the effect of marketplace changes, or in other words – protecting & extending your business! SoldEazy is integrated with webstores, Wish, Amazon (Coming Soon!) & other mainstream marketplaces. You just need to prepare a set of product data, then you can extend your listings beyond just one marketplace.
You can have one month free trial upon sign up. For facilitating transition, there will be specialist helping you to onboard/ provide extra help if you use the below link to sign up! See for yourself & pick the feature that best fit your business now!
Join The 5,000+ Satisfied SoldEazy Users!